Muskoka River
Explore the Muskoka River by canoe, kayak or paddleboard in beautiful historic Huntsville, Ontario.
Head up or downstream from our Huntsville store, in very gentle current. Paddling west (upstream) leads you to Hunter's Bay, where you can stop at Avery Beach for a picnic, a game of beach volleyball or just to have a swim and relax. Continuing further west will take you to a boardwalk, then Lake Vernon and Hutcheson Beach, which is also a great place to swim or have a picnic.
Or, you can head east (downstream), passing under Huntsville's heritage "Swing Bridge" on your way to Fairy Lake. There, you can enjoy picturesque views and, perhaps, see the antique steam locomotive that operates along the shore below a cliff known as Lion's Lookout.
Staff can offer advice and tutorials for beginners and experienced paddlers alike. Free parking is available at nearby River Mill Park and the area has many restaurants and shops to visit after your paddle.
Rentals must be returned 30 minutes before store closing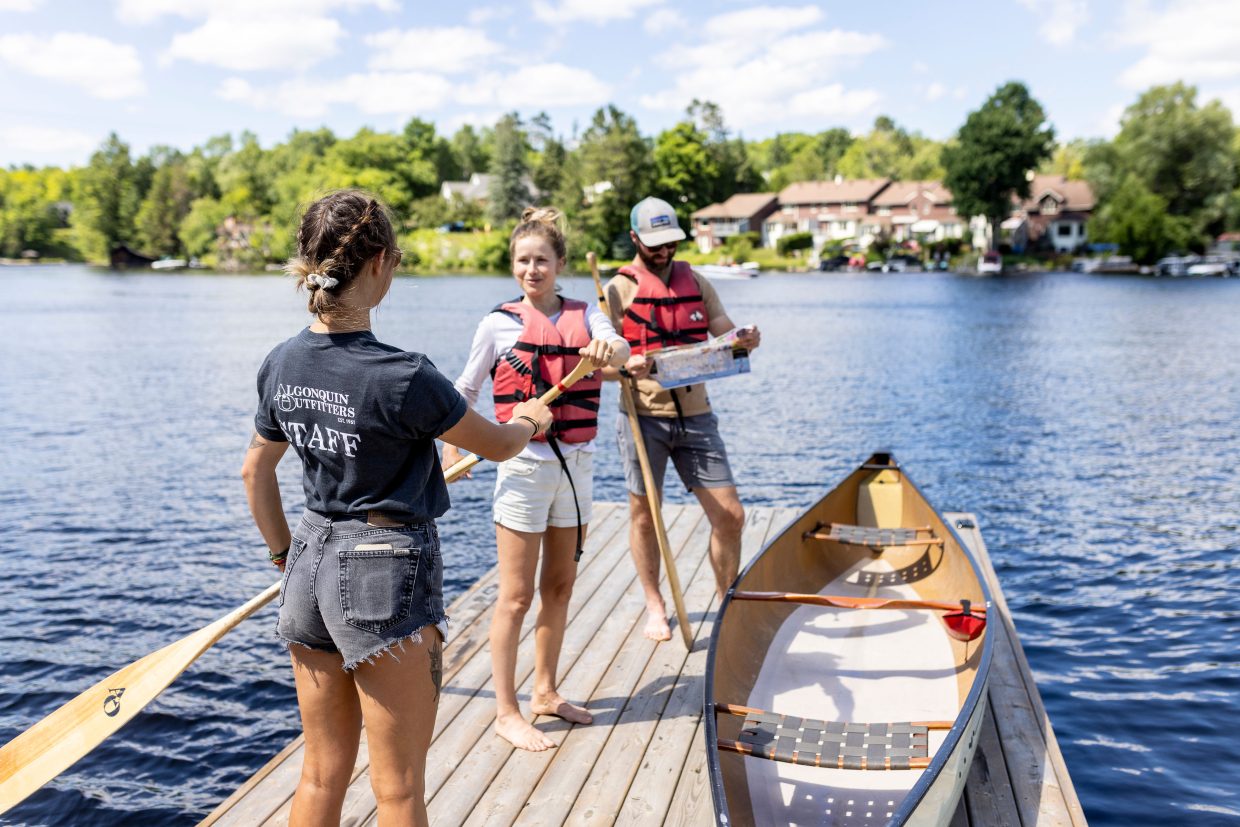 What's Included
All rentals include paddles, safety kits, life jackets (including kid's sizes), maps and waterproof bags. Kayaks, stand-up paddleboards and pedal boats are also available.
Good To Know
Heading west is upstream, going against a gentle current. It takes approximately 30-45 minutes to paddle to Avery Beach (one way) and about 1.5-2 hours to arrive at Hutcheson Beach on Lake Vernon. Be sure to allow a similar amount of time to get back to the store!
Going east into Fairy Lake is downstream. Since you'll be paddling upstream on your way back, your return trip might take a little longer.
This excursion is available weather and water conditions permitting.
Parking is available for customers at the River Mill parking lot, which is nearby but not right at the store.
Our staff helps everybody get in their boats at the dock and can give instructions about how to paddle and stay safe on the water.
Prices are for Muskoka River excursions in Huntsville.
Reservations
No reservations are necessary for day trips! Seasonal daily rentals are available at the back of our Huntsville store, near the town docks, on a first-come first-served basis.